Squire Army Plastic Figure Case - Standard Loadout
Tabletop Tyrant
TT-SQUSTD
The Squire Plastic Figure Case Standard Size Army Figure Case
A lightweight and durable black plastic case.
The bottom surface is reinforced with additional plastic lining for extra protection for your miniatures.
Water resistant and specially designed to fit G.W. and K.R. foam trays as well as the Tabletop Tyrant  range of trays.
The case comes with plastic clips and handle. the front of the case opens outwards so that it is easier to reach your models
The standard loadout comes with 4 x 25mm deep infantry trays.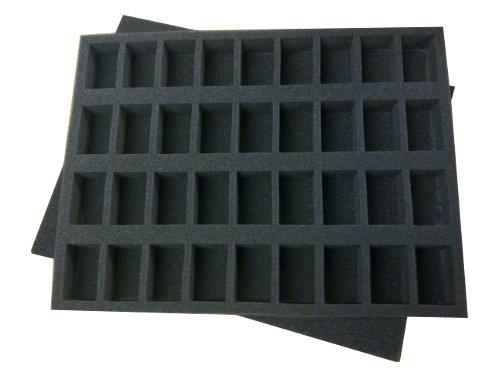 The infantry tray comes with 36 compartments. Perfect for Games Workshop (28mm) scale miniatures.
Specially designed to fit in the older generation of Games Workshop figure cases and Tabletop Tyrant Cases. 
Please note that any models shown are not included.
Compartment size 50 x 32 mm
Dimensions
L = 365mm W = 270mm Height =  34mm (including 6mm bottom pad)

14.6" x 11.2" x 1.28"