Tabletop Tyrant Boardgame Backpack
Tabletop Tyrant
TT-BGBP
We have brought over ten years of case design experience to our new backpack.
Carry The Board Games You Love In Style With Tabletop Tyrant's Tower Backpack
Whether you're heading to a sleepover at a friend's or going to spend game night with the family, Tabletop Tyrant spacious tower backpack will give you the freedom to take all your favourite board games with you. It's waterproof and weather-resistant to keep your board games safe and protected the easy way. From modern tabletops to classic board games, our waterproof backpack gives you all the space you need (+ more) to store, organise, and carry them while making sure you look stylish and stay comfortable. 
Designed With Convenience & Comfort in Mind 
When it comes to quality and comfort, we don't make any exceptions. Our boardgame backpack for men and women is made using quality nylon that's rip-resistant and durable to handle daily use.
The adult board game backpack is waterproof and features heavy-duty zippers to keep water out and anything inside safe making it the perfect choice for taking your board games on the go.
It offers ample storage space and zippered pockets so you can neatly store even the largest board games, card games, dice games, miniature figures, game pieces, and much more.
Ergonomically designed and padded shoulder straps
The reinforced handle on top makes carrying it a breeze
Suitable for use in most weather conditions
Designed with a moisture wicking back for more comfort
The shoulder straps are adjustable for the perfect fit
Spacious Main Compartment 
When fully extended, this board game storage backpack can safely hold even the largest board games. You can even stack multiple board games side by side to carry all your favourites to make game nights fun for everyone.
Stay Organised
The backpack features a total of 14 pockets with heavy-duty zippers on the top, front, and sides for storing anything ranging from water bottles to board and tabletop game accessories while keeping them neatly organised.
Versatile Ways To Use
Besides being the perfect choice for carrying all your favourite board games, our spacious backpack can also be used for carrying laptops, tablets, gym wear, etc. along with being adjustable to provide the perfect fit for women and men.
Made For Comfort
Our travel backpack is made with thick padded straps and a moisture-wicking, breathable back to make sure you can comfortably carry it throughout the day in any season without feeling tied down even when filled.
The case has an expandable main chamber, so it can store the largest of boardgames (Gloomhaven)
Compartment Dimensions
When extended the bag has the following internal dimensions;
H = 42 cm, W = 32 cm & D = 31cm
When not extended the bag has the following internal dimensions;
H = 42 cm, W = 32 cm & D = 21cm
Pockets
Our boardgame backpack comes with 14 pockets to store dice, pens, laptops, books and much more;
Tablet padded back pocket = 31 x 35 cm
Side pockets x 4 - H = 17cm W = 11 cm  D = 5 cm
Top compartment - H = 10 cm = W = 32 cm D = 18 cm
Front main pocket - H = 38 cm W = 32 cm
Front secondary pockect - H = 28 cm W=21 cm
Front small pockets x 2 - H =14 cm W=15 cm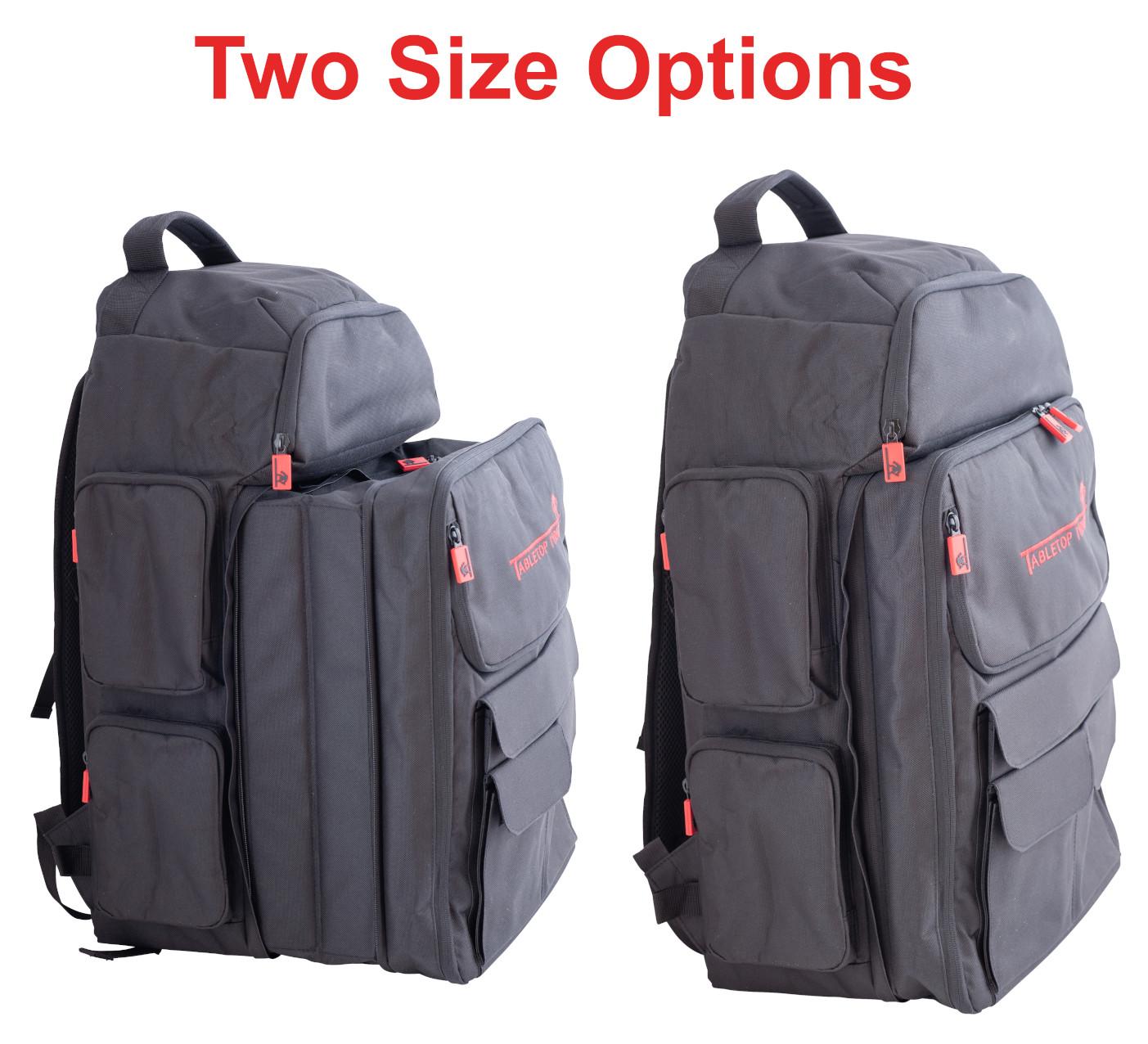 External Dimensions
Our backpack was designed to be carry on complement with all major airlines.
Its external dimensions (when not expanded) are 54cm (H), 44 cm (W) & 22 cm (D)
Buy with confidence. With over 10 years of supplying the tabletop games industry, we offer 60 days no-quibbles money-back guarantee on all our products.